After finallms online training system creates the course, can the student's study record be viewed? The answer is yes.
How to view the student study record? We can view the learning records of individual students in the good intelligence system, or the learning records of the total students in the system.
View individual student learning records:
First, click Student Management to enter [Student list], click more buttons on the right side of the student […], select [Learning record];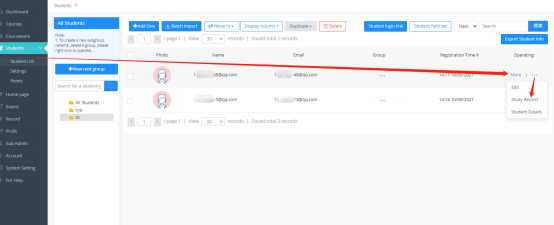 Enter the study record page, you can view the student's progress record, detailed to which course, chapter, start learning time, study time, course practice test.

Check the system total student study record:
After logging in to the system, click on the left menu bar [study record], you can view the study record of the system student, see which student, which group, study progress, test progress, etc., and support the administrator to export the study record.