Why I choose this online learning management system? At present, offline learning to train, and online training are relatively limited, why say so?
It can be imagined that offline learning training is limited by other factors, such as time, place, and crowd. If missed will miss good knowledge training and important learning to train for employees.
Now, many cities and rural education levels are different, learning resources are very limited. If using online learning management system, not only can access quality teaching and training resources and learning courseware. online training can provide a more fair and open training and learning management system. for students
Similarly, for workplace training, for some customers relatively far distance can be online enterprise training, can make customers more convenient to understand our products, enterprise learning management system can also record video training, whether for new employees and old employees are a good learning channel, reduce the manpower of our training staff.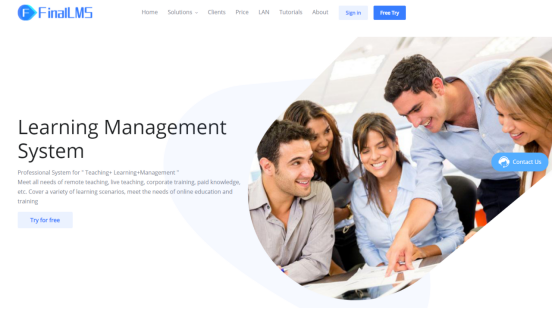 It is important that online training systems give students a rich variety of online training platforms, students can learn different courses in different chapters. You can also add notes to the study course, learn to make a summary.
In addition, choosing a highly secure independent deployment of the online training management system is believed to be the first choice of many people, Finallms independently deployed online training management system, independent deployment of online training management system all data storage users' servers, without having to go through a third party. All data is local, more convenient for secondary collation and development, and flexible docking with other functional modules.
The traditional training method, the time cost, the cost of printing the teaching material, the preparation of the training teacher, the energy consumption of the class, etc., can be saved in the online learning and training system of good intelligence. Just organize courses, share links or QR codes, students can scan code to learn! This is why I choose the Finallms online training system!